Co-op Connections Card®
Being a co-op member has its privileges and benefits! As a member of Holston, a Touchstone Energy cooperative, you get discounts on products and services from participating local and national businesses. The Holston Co-op Connections® Membership is absolutely FREE. To view all of the participating businesses in and around the Holston service area, register for your FREE membership by clicking here or download the mobile app on your smartphone or tablet.
Does the program work? YES! Learn how to get the most from using the Holston Co-op Connections by clicking here for easy steps to get you connected to all available deals and discounts. The savings are exciting! The Co-op Connections program is one more way Holston is Powering Solutions for our members!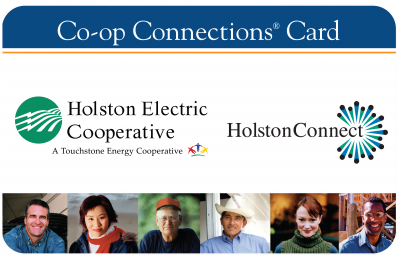 Here's what you get:
Great discounts from businesses in your community, including dining, shopping, automotive and much more. Use the card to shop locally!
Big savings when you shop online.
Discounts on most prescriptions at over 60,000 participating pharmacies. To find a list of pharmacy locations, visit www.HealthySavings.coop or call 800-800-7616.
If you know the strength and quantity of the medication, you can find the discounted price of the medication by visiting www.rxpricequotes.com.
Discounts on eyeglasses, contact lenses, eye exams and LASIK.
Discounts on dental care such as cleanings, x-rays, root canals, crowns, and orthodontics.
PLUS, additional savings on chiropractic visits, lab tests, imaging scans and hearing aids.
Here's where you search:
Refer a business! Any family-friendly, local business may be added to the program at any time. If you are a business owner that would like to be part of this exciting program or you frequent a business you'd like to refer, email members@holstonelectric.com. 
PLEASE NOTE: Discounts are NOT insurance and are NOT intended as a substitute for insurance. The discount is only available at participating providers.