Become a Member and Obtain Service
Holston Electric Cooperative is a not-for-profit, member-owned utility system that provides electric service. Anyone desiring service is required to become a member of the cooperative. 
Application for New Service
Please complete the application to request electric service from Holston Electric Cooperative. Service Requests are processed from 8 a.m. to 2 p.m. Monday through Friday. We need a minimum of 24 hours notice before service can be established. If you have any questions, or need assistance immediately, please contact our office at (423) 272-8821.
If you are renting or leasing your property, a rental agreement is required and service will not be processed until the documentation is received. If property is owned, proof of ownership or deed is required and service will not be processed until the documentation is received. Please email documentation to onlinerequests@holstonelectric.com.  Two forms of government issued identification are required prior to processing. 
Initial Fees
Membership –
Holston Electric Cooperative requires prospective members who wish to receive service to submit a membership application with the following information:
1.   Name, spouse information, mailing and service address, telephone numbers
2.   Social Security or relevant tax number(s) of member, spouse
3.   Contact Information, employment, government issued identification
4.   Statement of whether rental or owned, including a purchase agreement, copy of lease, or rent receipt
The applicant should be prepared to present a government issued photo identification and secondary identification at time of application.
Deposit
Residential-
The residential deposit amount is based on your credit history and is supplied by Online Utility Exchange.
All Others-
An amount up to twice the average monthly or estimated bill.  Any amount exceeding $500.00 may be satisfied by the member furnishing to Holston Electric an acceptable surety bond or irrevocable letter of credit on such terms and forms and forms as determined by management.
Connection Fee -
The initial connection fee is $25.00 for residential members.
Following these steps will help you through the requirements for locating/constructing a new electric service:
Please visit https://publications.tnsosfiles.com/rules/0780/0780-02/0780-02-01.20190918.pdf
to reference all Tennessee Department of Commerce and Insurance Division of Fire Prevention Rules concerning Electrical Installations
as adopted by reference to the National Electrical Code, 2017 edition, published by the National Fire Protection Association.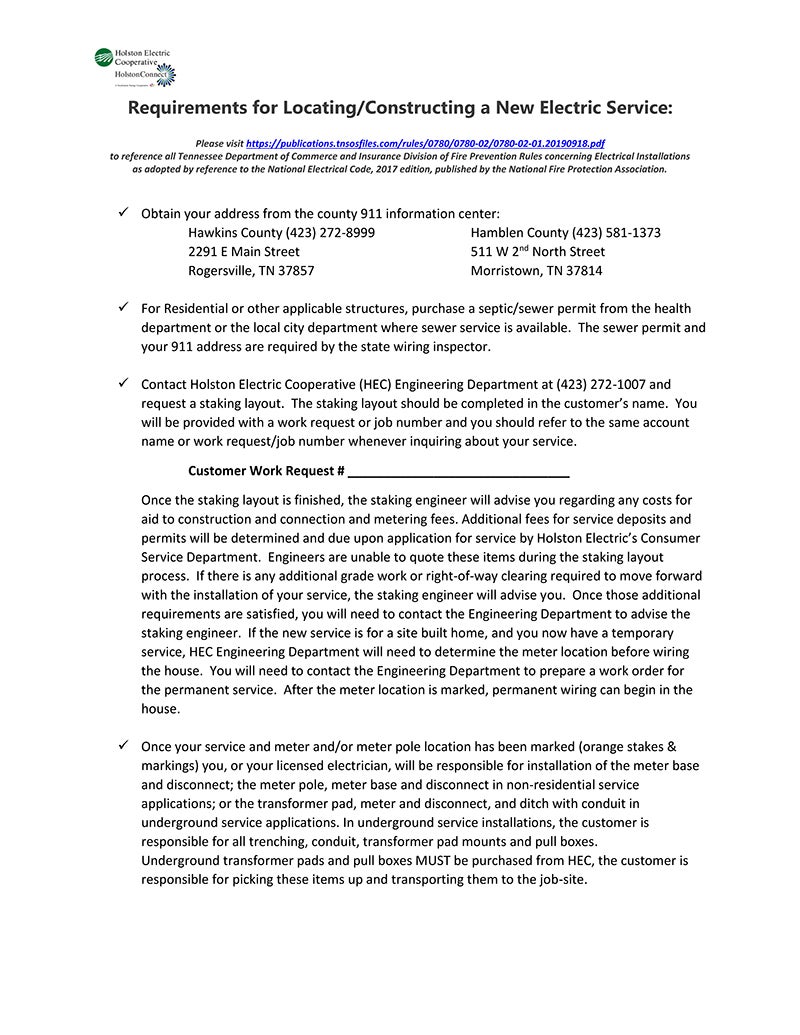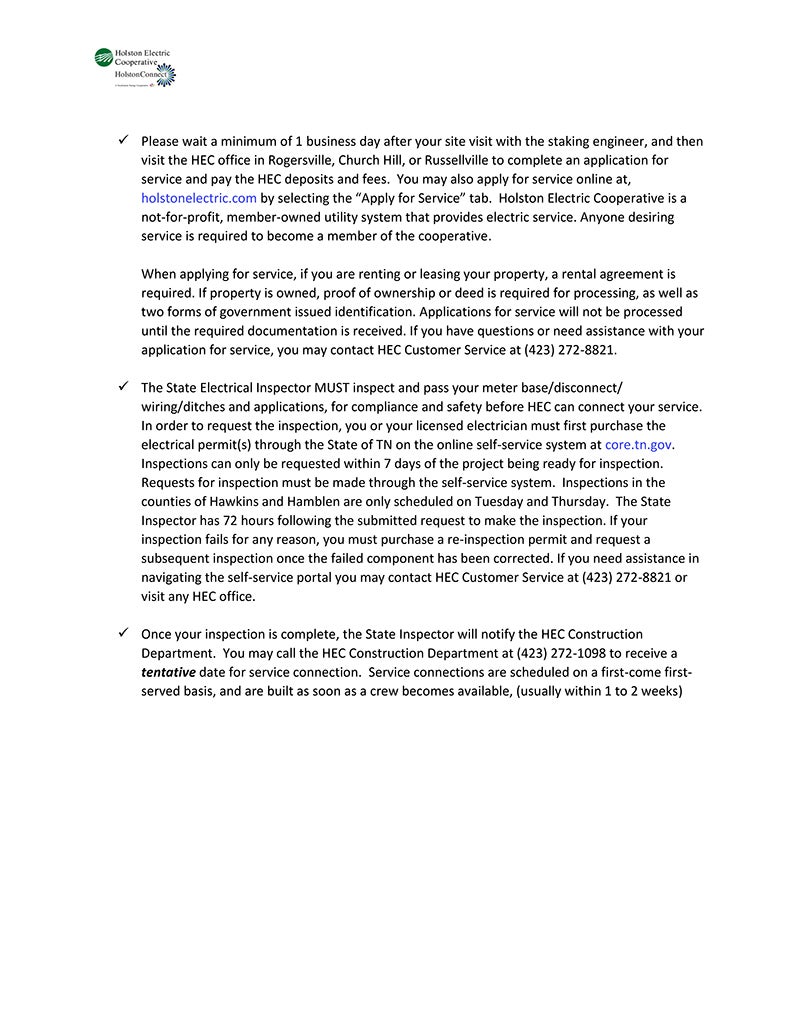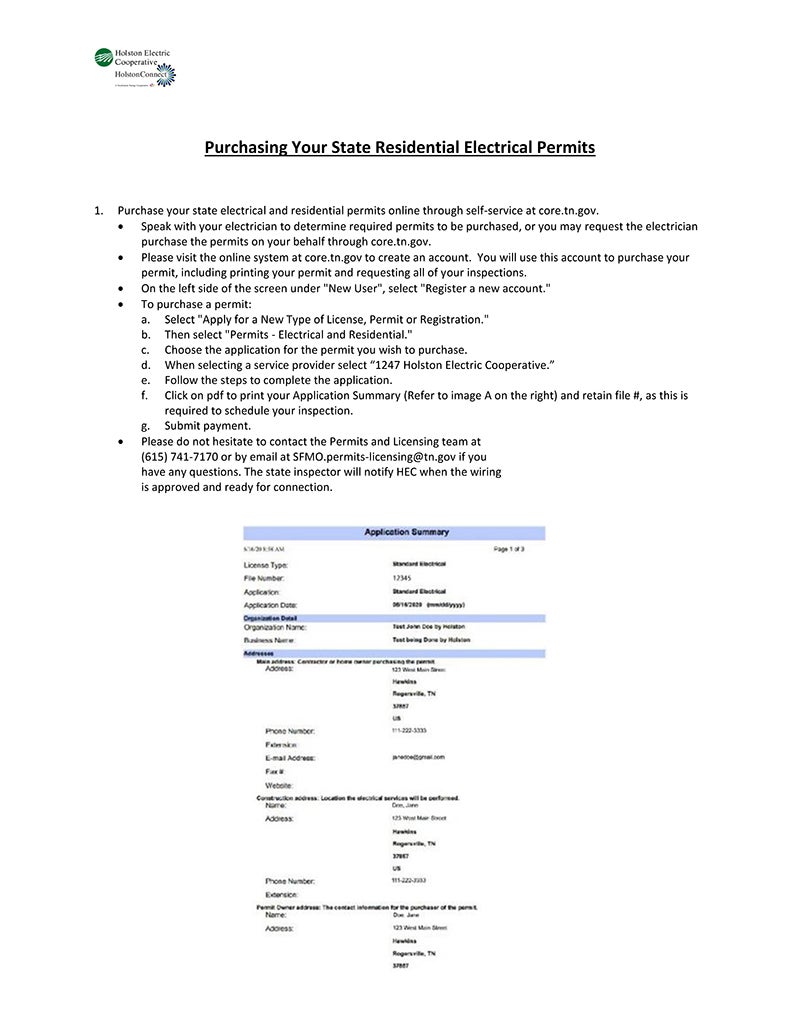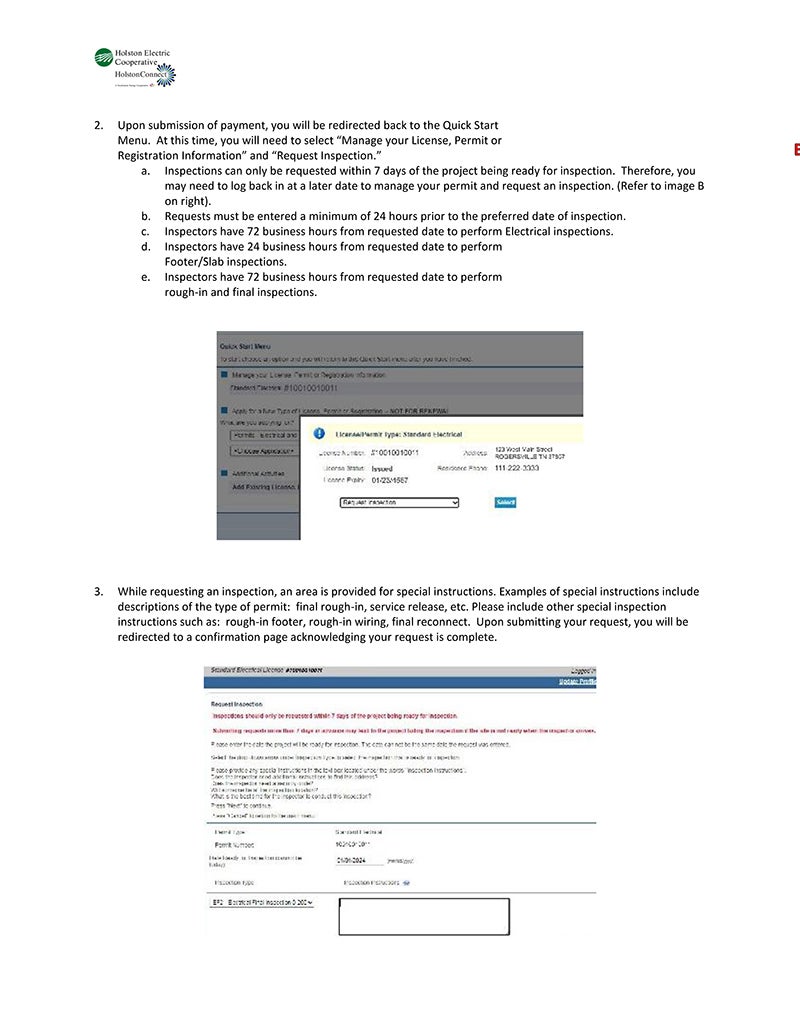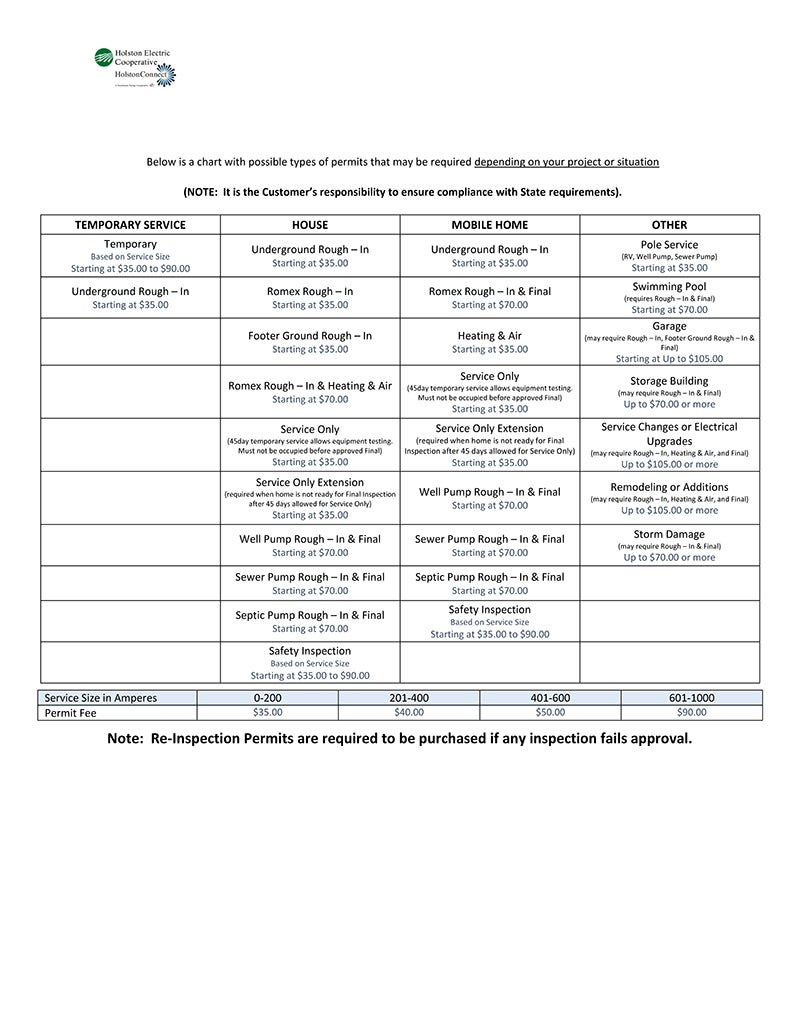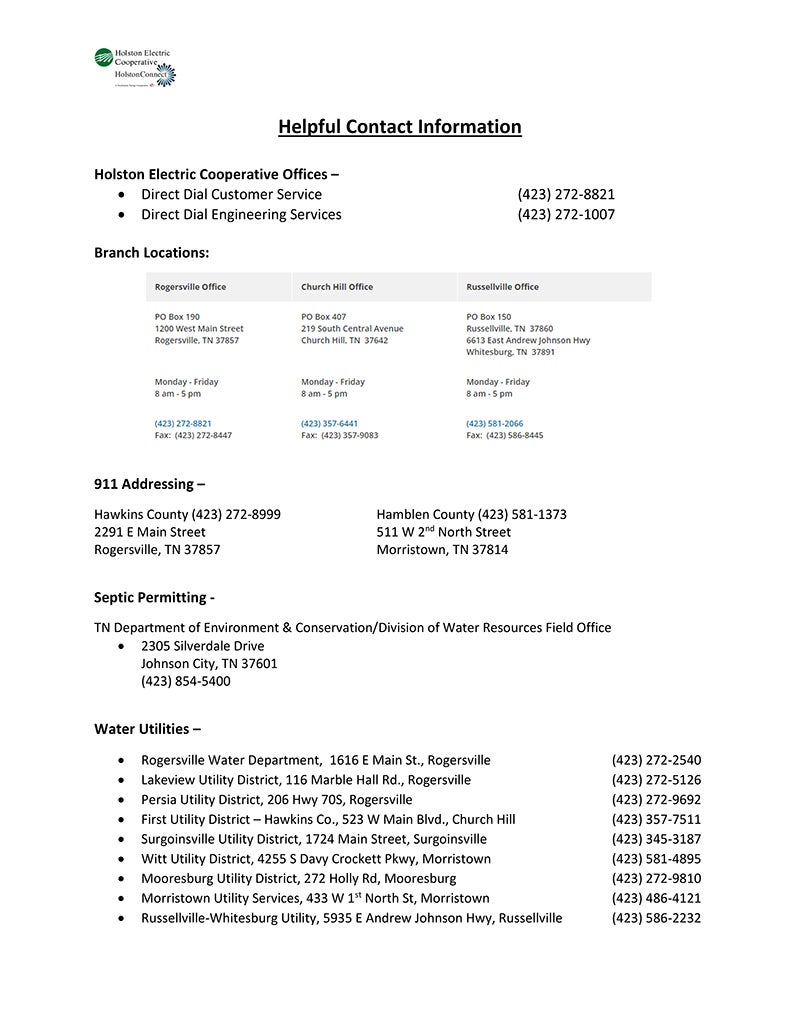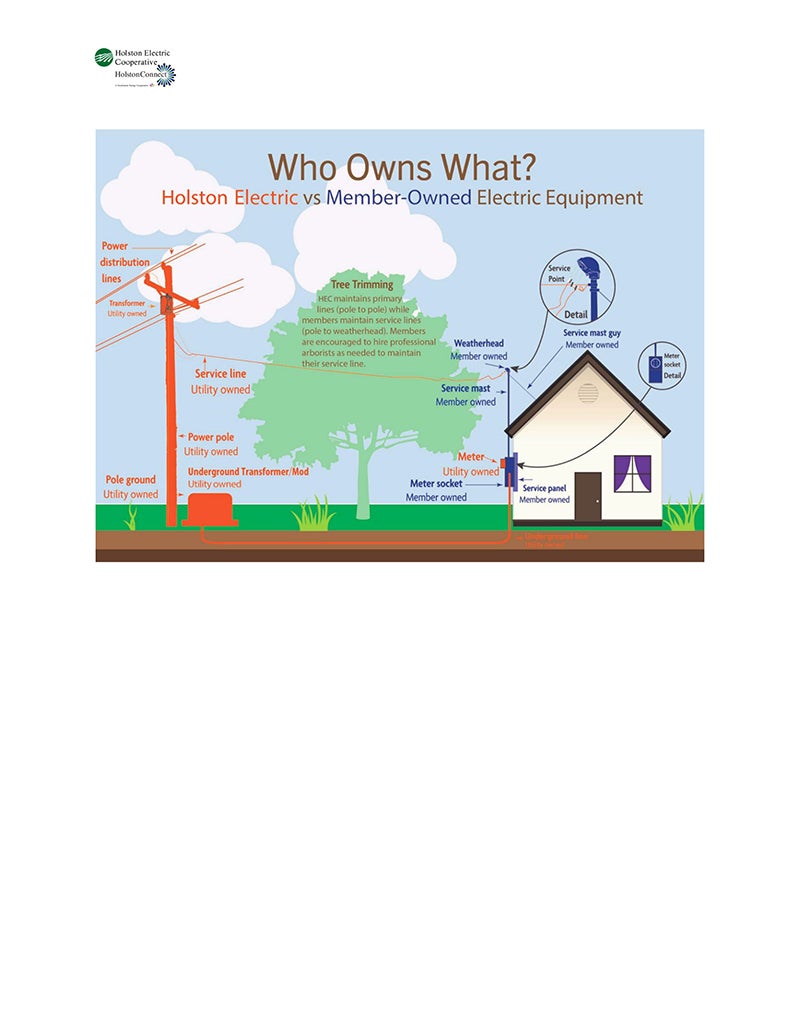 To help us serve you better, please remember to refer to the same account name throughout this process. 
*Below are examples of guidelines for construction.